Staff member plunders casino's vault
06-01-2015
A security guard got away with a cash haul after a gunpoint hold-up at the Bluewater Resort & Casino. The robber in question, Vladimir Quintana, is facing several charges, including robbery and possession of a
weapon for unlawful purposes
. The 25-year-old robbed the contents of a vault inside the casino.
Gunshots heard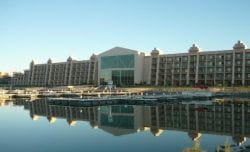 Quintana took off after the robbery, followed by a high-speed pursuit that reached speeds of about 100 miles an hour. The suspect used a firearm during the incident, while there were reports of several gunshots heard. Quintana left the Parker-based casino with a bag filled with
$132,500 in cash
.
Panic after robbery
A police officer detained the suspect, who claimed he had been robbed. Additionally, Quintana declared he had shot two times as he panicked. Authorities recovered the bag near the gambling venue. Quintana is being held at the La Paz County Jail pending trial for the armed
casino robbery
.