Sioux Falls casino robbed at gunpoint
18-08-2014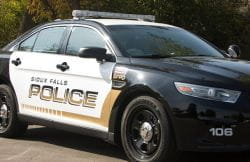 An armed robbery has occurred at Happy Jacks Casino in Sioux Falls. Local police are looking for two men who stole an undisclosed quantity of cash from the till. One of the casino robbers was
armed with a firearm
, according to a police statement.
Armed robbery
The
casino robbery
took place at around 1:00 am. The armed men threatened one of the casino workers and took all the money that the cash till was holding. At the same time, the other criminal told two casino players to look away. Subsequently, both men left the gambling establishment, and they are still on the run.
Kerchief wearing suspects
Additionally, the police report featured a description of the suspects, who are both black males. One of the criminals is about 5'9" tall and he wore a light colored t-shirt. Additionally, he carried a firearm and he had a dark colored
kerchief
on his face. The other criminal was last seen wearing a blue kerchief.