Scranton gambler accused of past-posting
23-09-2014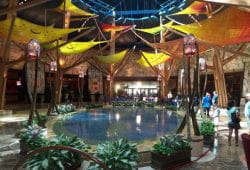 Past-posting is a common fraud scheme, which involves changing a bet while it's no longer allowed. That's exactly what Qualeek Tamel Miller did at a poker table inside Mohegan Sun at Pocono Downs. The 27-year-old gambler now faces
fraud charges
.
Past-posting case
According to court documents, Miller was enjoying a game of
Texas Hold'em
at the Wilkes-Barre-based casino. After placing a bet at the start of a hand, he failed to place a wager on a so-called 'bonus bet space'. He decided to add a $5 chip when he discovered that he was dealt promising cards, which wasn't allowed at that time.
Honest cheater
Initially, nobody noticed the fraud and the Scranton resident bagged a $100 payout. Nevertheless, casino staff discovered the
past-posting incident
, and Miller came clean. He confessed to the illegal bet and repaid the winnings. The accused has been given permission to await his trial at home under the condition he pays $5,000 should he fail to comply with the conditions of the bail.