Sands Casino Bethlehem patron accused of cheating
04-12-2015
Cheating at a casino can be quite tempting, such as 'late betting'. A Manalapan resident decided to
add some additional chips when it wasn't allowed anymore
. Daniel A. White got caught, and he now faces charges of fraud. The cheating incident occurred at the Sands Casino Bethlehem.
Illegal winnings worth $11,000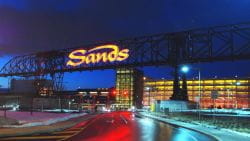 White was enjoying a game of blackjack when he realized he had winning hands. For that reason, the 49-year-old gambler increased his winning by adding additional tokens. Police believe that White collected a whopping $11,000 thanks to the
past posting activities
.
Arrested for cheating
Security cameras at the Sands Casino Bethlehem recorded the incident, followed by his arrest the next day. The
blackjack
player from Manalapan (New Jersey) was bailed for $25,000. "Investigation demonstrated that the suspect past posted on two occasions, while he also convinced the croupier to pay out more than he had actually won", a spokesperson for the police commented.