Russian far east threat to Macau's casino industry
14-09-2015
The Russian city of Vladivostok will welcome a new casino in September. The new gambling venue, Tigre de Cristal, forms part of a gambling zone, introduced to boost the region's development. The hotel casino complex features
nearly 800 gambling machines
, and lots of table games.
$2.2 billion investment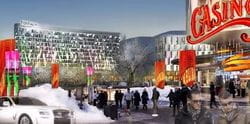 The Far East is one of Russia's less developed regions, prompting the government to introduce investment projects. With the new gambling-designated zone, Moscow targets
Asian high-rollers
. Market watchers believe that it can become a second Macau, which would justify the $2.2 billion investment involved in the development of the gambling zone.
Threat to Macau
Despite the rewarding potential of Asian big spenders, Russian gamblers are expected to cover about 80% of the revenues. China's attempt to tackle corruption has affected
Macau's casino
industry. In the first six months of this year, gambling revenue from Chinese punters has slumped to the lowest level in more than four years. Russia's new gaming zone in the Far East may benefit from
Macau's downturn
.