Rapid City Police book two casino robbers
08-07-2013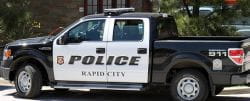 Rapid City Police have arrested two men who allegedly robbed the Saint Pat Casino. The suspects include 23-year-old Bradley Lightfoot and 30-year-old Rudolph Gabe. Both criminals were armed and a quantity of cash was stolen from the casino.
Armed robbers
One of the robbers used a firearm to threaten a casino official, while the other robber displayed a
sword
. The criminals managed to steal an unidentified amount of money from the Rapid City-based casino, after which they fled in car. Police officers chased the duo, and during the pursuit they threw the stolen money out of the vehicle.
Arrested after police chase
A spokesperson for the police revealed that the
casino robbers
were arrested in a small town near Rapid City. During the chase they hit various fences. One of the suspects was arrested in the car, while the other criminal tried to fled. He was also booked. Agents found both weapons inside the vehicle.