Punters ordered to pay back $1.5 million in baccarat winnings
16-02-2015
A group of gamblers have experienced a huge hangover due to a New Jersey state superior court ruling. Judge Donna Taylor has ordered fourteen casino players to return their
winnings worth $1.5 million
, which they collected while playing mini-baccarat at the Golden Nugget in 2012.
41 winnings hands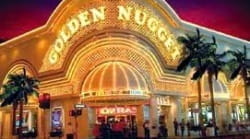 The casino patrons noticed that the
baccarat
cards had not been shuffled. For that reason, they decided to raise their wagers from $10 a hand to a whopping $5,000. The baccarat players then took home $1.5 million in cash after 41 winning hands in a row. Almost needless to say that the winning casino patrons claimed the unshuffled cards were not their fault.
Illegal baccarat games
Judge Donna Taylor ruled that the games of mini-baccarat were illegal due to the unshuffled cards. Subsequently, the gamblers have to pay back the winnings, while the casino has been ordered to return the gamblers' bets. The Golden Nugget purchased the baccarat cards that were
supposed to be pre-shuffled
, which wasn't the case.