Punter arrested after leaving 9-month-old in car
21-04-2012
It seems unbelievable that a mother would gamble at a casino and leave her baby in her car. However, Monetta Davis paid a quick visit to the Southland Park Gaming & Racing and left her baby in her car. The school teacher was arrested, after which the Memphis City Schools dismissed the 42-year old woman.
Casino voucher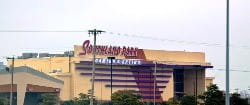 Another visitor notified security officials after he saw the child in the back seat of the car. Security staff managed to open the car and rescued the baby from the vehicle. They waited for almost a half hour before she returned to the car. Davis had a casino voucher worth $20, which she wanted to use rapidly at the West Memphis-based
gambling
venue.
Unbelievable
Security staff were surprised when they found the baby in the car. "Oh my God! How could someone leave their baby alone in a car? You never leave your baby unattended, nowhere!" one of the officials commented. Fortunately, the child was unharmed.
5 children locked in van
On February 26, a New Zealand couple visited the SkyCity
casino
and left their children in their van. The children, between the age of 5 months and 8 years, were placed in custody of Child, Youth and Family. CCTV footage showed that the children had been in the van for approximately 45 minutes. A customer noticed the crying children and informed security officials.