Prostitutes and gambling after successful casino robbery
30-07-2014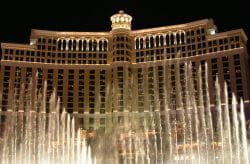 The man who allegedly robbed a Las Vegas casino was having a blast after the heist, according to the police. Scott A. Carmitchel splashed out on
hookers and gambling
before he was arrested last Saturday.
Backslider
The 34-year-old suspect displayed a firearm and threatened a staff member of the casino. Carmitchel stole $43,500 from one of the casino tills, according to detectives. The
casino robber
has an impressive criminal record, including robbery and assault charges. Carmitchel spent several years in jail and appears to be a backslider.
Shopping, gambling and hookers
He failed to provide acceptable identification documents and claimed to be a Kansas resident. Besides gambling and prostitutes, Carmitchel also splashed out on shopping. The 34-year-old criminal said he had stumbled upon a bag packed with money in a car park. Police arrested four hookers at the hotel room, where they also recovered
extravagant shopping receipts
.