Petaling Jaya police bust condo-based casino
14-01-2015
You won't expect an illegal gambling operation in an upper-class condo. However, Petaling Jaya Police discovered a
clandestine casino based in a luxury apartment building
. A spokesperson confirmed that they arrested two men, who allegedly operated the underground gambling parlor.
Gambling items seized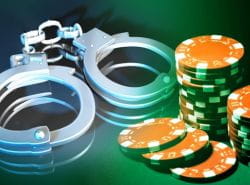 Police believe that the duo raked in a whopping S$2,600,400 over the past six months. Another 16 suspects were arrested in connection with the illegal gambling operation. The two operators of the business rented the condo. Police recovered a sum of nearly S$3,800, in addition to gambling paraphernalia, including tables, and a
tablet computer
.
Professional gambling chips
Among the 16 suspects were several students, according to the police spokesperson. All of them were released on police bail. Officers also seized a huge number of gambling chips that featured the name of the
underground gambling
venue. A this stage it's unclear when the two operators of the mini casino have to appear in court.