Osaka Police bust illegal slot machine venue
08-12-2012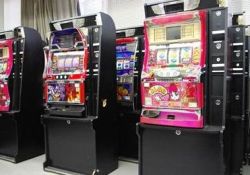 An illegal gambling venue based in Osaka (in the Kansai region) has been raided by local police officers. Club New York featured 29 slot machines and the 53-year-old operator has been arrested.
Pachinko slots
Two other suspects were detained for involvement in illegal gambling activities. Police officers confiscated almost 30 so-called 'pachinko slot machines'. Additionally, five gamblers have been detained.
Exclusive underground casino
The illegal casino had been in business for about two years. Club New York was a rather exclusive gambling venue as newcomers were extensively screened. Additionally, the entrance of the underground casino had double doors and a CCTV system.
Illegal gambling parlors
Local media report that the gambling revenue was used to finance criminal activities. Recently, Osaka Police raided a roulette venue in the same area. Six people were detained, while several gambling items and cash were seized. This week we reported about an
illegal gambling venue in Malaysia
. The manager operated an internet café that offered access to online casinos.