Mother leaves child unattended while gambling at casino
25-07-2014
Another mother has decided to leave her children alone in her car in order to enjoy a gambling session. 37-year-old Phaley Nget was playing card games at Casino 580 in Livermore, California. It remains unclear why she had
covered the windows with blankets
. Perhaps Nget didn't want other people to see her kids inside the car, or she was trying to protect them against the heat.
Alarming situation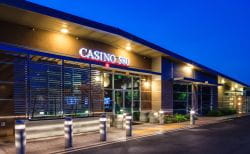 Both children were crying when somebody spotted them at the casino parking lot. "Most of these cases concern parents who leave their children unattended for some grocery shopping. But this
woman was playing at a casino
while her children were locked inside her car. The heat outside made the whole situation even more dangerous", a police spokesperson stated.
Locked inside hot car
Nget left the kids for more than 30 minutes unattended, while it was about 81 degrees inside the vehicle. Casino security officers discovered the 37-year-old woman at one of the gambling tables. The incident had quite an impact on the casino workers as they just couldn't believe that a
mother was capable of such irresponsible behavior.