Malaysian port town hot spot for black-market gambling
18-08-2016
Illegal gambling used to be quite popular in Port Klang, but authorities flushed out all underground operators. However, the
black-market activities are back
, according to local media. Most players are people from outside Malaysia and youngsters. The question raises why authorities allow those underground venues to offer their services in Port Klang.
More than 20 underground gambling dens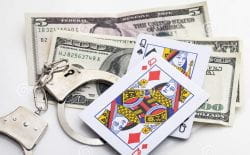 "Criminals have turned many empty stores into gambling spots", one of the residents noted. There are about 21 of those illegal gaming centers in the area, which
damage the reputation of Port Klang
. "It's an open secret that many venues offer
illegal gambling
, and it's unbelievable that authorities turn a blind eye", another local said.
Secret sign
Lots of stores in Port Klang appear to be shut down, but gamblers can enter them through hidden entrances. Those doors feature a
'no-helmet' symbol
to point out that the venue in question is a gambling den, and players have to ring the bell first. Most employees at the
black-market gambling
stashes are immigrants, and not everyone can enter the illegal gaming centers as operators are cautious considering the threat of a police raid.