London Police arrest violent casino robbers
18-07-2014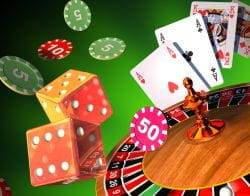 London Police have arrested five men who allegedly robbed several casinos across the city. Their last robbery took place yesterday when they targeted a gambling venue in Ilford. The armed men demanded money and
used knifes to reinforce their intentions
.
Arrested after another robbery
One of the criminals kept watch outside, while the other two were stealing money from the till. A police spokesperson revealed that the robbers left the casino with an undisclosed amount of cash. Police officers managed to arrest the fleeing suspects at a premises on Ilford Hill. Additionally, two other suspects were also
booked at the home
.
Violent and aggressive
The men are charged with counts of armed robbery and criminal conspiracy. "The suspects acted violently toward casino employees and customers. We think they carefully planned the
casino robberies
, which were characterized by an aggressive approach. In every robbery they managed to steal an undisclosed amount", the spokesperson added.