Local resident robs Breaux Bridge gambling venue
07-07-2014
A Breaux Bridge resident has robbed a local casino, read a statement from the Breaux Bridge City Police Department. The black suspect walked into the gambling parlor and
demanded money from a cashier
. After receiving the cash, the black capped man took off running.
Fleeing casino robber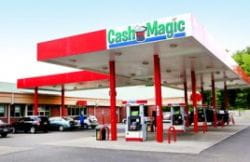 Witnesses described the robber as a black man who wore a dark colored cap. The suspect was last seen wearing black trousers and a light colored shirt. Shortly after the casino robbery, local police officers
searched the neighborhood for the crook
. At this stage it's unclear how much money he stole.
Arrested at home
CCTV footage showed the robbery and investigators managed to determine the suspect's identity. Officers with the Breaux Bridge City Police raided his home and booked the suspect. Nobody got hurt in the
casino robbery
and the suspect didn't carry any weapon. The robber, identified only as Broussard, is being held in the St. Martin Parish Correctional Center.