Jail term for woman who abandoned child in car while gambling
09-02-2013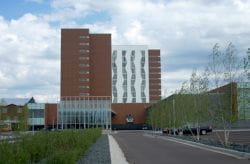 A 26-year-old woman from Cloquet, Minnesota has been sentenced to 12 months in prison. However, the majority of the sentence will be served on probation. Jordanne Teryce Setterquist was gambling inside the Black Bear Casino while her baby was in the car.
Treatment after media attention
Her lawyer stated that Setterquist has undertaken treatment after the incident caught a lot of media attention. "My client has been threatened by a number of people after media reported on the case. She even found her car tires slashed on several occasions. She has her baby back ater Social Work treatment," her lawyer said.
45 minutes unattended in car
Fond du Lac Police detained the 26-year-old mother on June 16 last year. Casino security officers alerted police after the baby was found unattended in the back of the car. According to sources, the child had been left abandoned in the vehicle for approximately 45 minutes. Casino security officers managed to trace the owner of the car thanks to her Black Bear Casino players' card. Last year, a
New Zealand couple abandoned their children while gambling at a casino
.