Incredible gambling wins: Successful blackjack negotiator
22-08-2015
Negotiating before playing blackjack can be quite rewarding. Ask Don Johnson, who
took home more than $15 million in cash
courtesy of a mathematical edge. That advantage was the result of negotiations with the casinos in question.
Beneficial conditions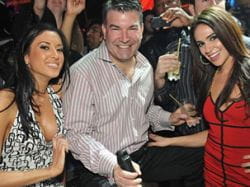 It's an open secret that high-rollers make up a large chunk of casino revenue. But due to the financial crisis that started in 2008, gambling parlors were struggling to attract such
big spenders
. Johnson took advantage of the situation, and obtained some considerable rebates. A mathematical advantage was the result, allowing him to generate massive wins.
Winning streak
Johnson enjoyed an extremely rewarding blackjack session at the Tropicana Casino. He left the Atlantic City-based gambling resort with a dazzling $6 million in his pockets. On top of all that, the professional gambler collected $5 million at the
Borgata
. The six-month period in 2011 also included a staggering blackjack session at
Caesars Atlantic City
, which netted him another $4 million.