Incredible gambling wins: Geeks beat the casino
15-08-2015
Card counting has become a well-known concept in the world of blackjack. The phenomenon gained even more fame due to the movie 21, which is actually
based on a true story
. Several students and former students from the Massachusetts Institute of Technology (MIT) pulled it off.
Success story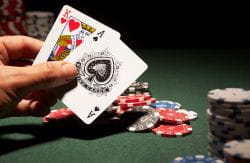 The so-called MIT Blackjack Team used card counting and other refined techniques to beat gambling parlors at blackjack. They managed to collect massive
blackjack
winnings at casinos around the globe. The success story started back in 1979, and other gambling enthusiasts used the techniques to win at blackjack into the early 2000s.
Kicked out of casino
Card counting may sound like rocket science, but it's actually not that difficult. Experts say that if you are capable to count one deck, you can do the same with multiple decks. Ask
Ben Affleck
, who was accused of
card counting
. The Hard Rock Hotel and Casino banned him from playing blackjack after he was caught using the technique back in April 2014.