Horrifying evening for casino grannies in Detroit
18-09-2015
Detroit authorities are investigating a violent incident at a local gambling parlor. A criminal attacked two grannies who had spent the evening at the MotorCity Casino Hotel. The suspect
mugged, abducted and carjacked the elderly victims
, who are sisters.
Armed robber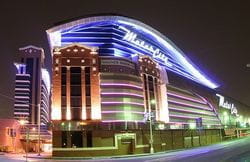 The terrifying event occurred at approximately 5:00 on Friday morning, read a statement from the Detroit Police. The bandit approached the women in the
casino parking lot
. The suspect carried a firearm, and he told the two sisters to get into a car. Subsequently, the perpetrator mugged the victims.
Dropped off in unknown neighborhood
Then, he told the women to head to a quite spot. "We were scared to death, and we had no idea what was going to happen next", one of the women stated. The criminal dropped the two women off in a district that was unfamiliar to the two sisters. Then the suspect took off in a stolen Red PT Cruiser. Police are appealing for the public's help in finding the
armed man
.