Gambling tattoos: Slot tribute to legendary casino
01-10-2016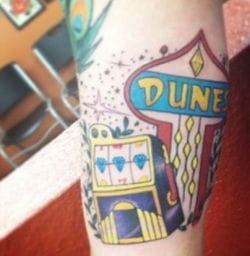 In 1955, the Dunes Hotel & Oasis Casino opened its doors to the public. After almost 4 decades, the Maxwell Starkman-designed gambling resort went out of business in 1993.
Apparently somebody fell in love with the Dunes Hotel & Oasis Casino
and dedicated a cool tattoo to the former Las Vegas-based business.
Tremendous tribute to former casino
The characteristic exterior of the Dunes Hotel & Oasis Casino dominates this gambling tattoo. With a little bit of imagination you could consider the hotel's logo as a
reference to an ace of spades
. And what would a gambling tattoo be without a slot machine? That's exactly the reason why this tribute to the Dunes Hotel & Oasis Casino features a
sweet one-armed bandit
. The gambling enthusiast in question will always cherish the moments he (or she) spent at the Sin City-based gambling resort.
Las Vegas trip to celebrate Live Roulette winnings
Speaking of Las Vegas, the gambling city in Nevada remains something of a wholly place for many people. 56-year old Mikael is definitely one of them as the Swedish gambler visited Sin City after
collecting a whopping $229,764 in Live Roulette winnings
at
Royal Panda
. Together with his former girlfriend, Mikael enjoyed the excitement of the Las Vegas Boulevard. The Swedish gambling fan will use his
Live Roulette
payouts to purchase
Ericsson
stocks and to clear his mortgage.