Gambling tattoos: Norwegian casino bird
09-07-2016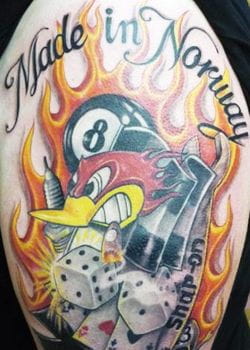 What's the deal with flames and tattoos? This week's inked masterpiece is yet another example of an ardent passion for gambling. The casino fan from Norwegian definitely steals the show with his stunning gambling tattoo, which also includes a
funny chaparral bird
.
Burning casino-themed masterpiece
The wonderful creation features several gambling-related items, such as:
Playing cards
Some kind of flag
The magic 8 ball
It goes without saying that the badass bird takes center stage, while the flames add an ardent twist to the cool gambling tattoo. Additionally, 'Made in Norway' is a fine example of Scandinavian chauvinism.
Lots of legal gambling options
Valio Ska is the brainchild behind the full color masterpiece. It remains unclear if the Bulgarian tattoo artist himself also likes to gamble. One thing's for sure: Both land-based gambling and the online equivalent are legal in the country situated on the
Balkan Peninsula
. Bulgarian gamblers can also enjoy the national online platform Sports Totalizator, which offers both
sports betting
and lottery games.