Gambling tattoos: A gambler's perfect night out
10-09-2016
What better way to kick off the weekend than a casino night packed with cocktails. This week's gambler definitely agrees considering his cool tattoo. Heterosexual, male gamblers however, would also like a
hot babe
, but you can't always get what you want.
Exciting cocktail of fun and drinks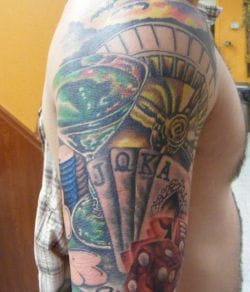 This wonderful piece of body art features multiple casino-themed items, which means that we're dealing with an authentic gambler. Let's take a look at the gambling elements of his tattoo:
A roulette wheel
Two piles of casino chips
Four cards
Two craps dices
A slot machine is the only thing that misses, but as mentioned above, you can't always get what you want. Additionally, the cocktail glass doesn't leave much to the imagination. Indeed, nothing beats the sensation of
alcoholic beverages in combination with the pulse-racing excitement of gambling
.
Everybody loves games of chance
Casinos can be found at every corner of the world, which is because of the stunning magic of gambling games. These are the five
most popular games
among gamblers from all over the world:
The staggering world of gambling also allows players to enjoy their favorite games online, including on a mobile device. Additionally,
live casinos
are a tremendous blend of authentic gambling and its online variation.