Gambling father leaves children alone in truck
31-05-2013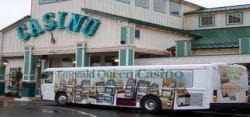 A Yelm, Washington resident has been booked after he left his children in a truck while he was enjoying a gambling session. 34-year-old Terry Jonason was spinning the reels of the slot machines inside the Emerald Queen Casino for several hours.
Wet pants
His two daughters blew the truck's horns after which they were discovered. It was clear to see that the children had been inside the truck for quite a while, but they were in a normal condition. "The girls had spent about
five hours
in the vehicle and they had wet their pants," a police spokesperson revealed.
Gambling truck driver
The 34-year-old gambler works as a trucker for his dad's company, which is located in Spanaway, Washington. Jonason visited the small town of Fife for repairs of the vehicle. The 34-year-old truck driver went to the gambling venue as his vehicle couldn't be repaired. Jonason thought he had been
gambling less than one hour
.