Gambler mugged at Resorts World Casino
10-07-2015
There's nothing more annoying than being interrupted when spinning the reels of a slot machine. However, that's child's play if the person in question
appears to be a mugger
. A 54-year-old gambler has had a similar experience at the Resorts World Casino New York City.
Brutal robbery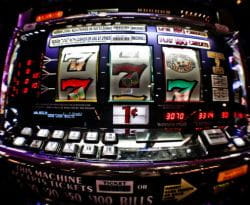 The gambling enthusiast was playing an one-armed bandit when all of a sudden he was approached by a stranger. His intentions were immediately clear as he mugged the 54-year-old slot player. After the victim had recovered from the
violent incident
, he discovered that the mugger had stolen a sum of $2,000.
Tips on suspect
The perpetrator is believed to be a white male, aged between 20 – 25, according to a statement from the police. He wore a silvery t-shirt and a dark-colored sports cap. Police are asking for the public's help to identify the perpetrator. Anyone with details on the suspect is asked to contact Crime Stoppers via telephone ((800) 577-TIPS (8477)) or internet (
nypdcrimestoppers.com
). Texting is another option: 274637 (CRIMES) + TIP577.