Gambler banned after attacking security guard
19-10-2015
Gambling is an extremely fun pastime, but there are always some who spoil things for others. An incident at the Horseshoe Casino Baltimore is an example of such
wet blanket
. For some reason, a gambler decided to punch a security official.
Caught on camera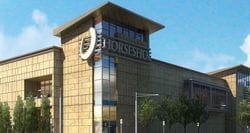 The management of the casino didn't hesitate and imposed a lifetime ban on the aggressive customer. Another casino visitor recorded the incident on his smartphone. The video shows how the two men seem to be arguing about something. At some point, the gambler
loses his temper, attacks the security guard, and punches him in the face.
Spoilsports
In August 2014, the Horseshoe Casino Baltimore opened its doors to the public and millions of gambling fans have visited the establishment to date. "Unfortunately, there's always a small group of people that misbehave. We can't accept such behavior and we have a zero tolerance policy to protect our visitors", a spokesman stated after the
incident at the Horseshoe Casino Baltimore
.