Failed armed robbery Butte-based gambling parlor
20-05-2014
The Lucky You casino has fallen victim to an armed robbery, according to local media. An armed robber targeted the gambling parlor based in Butte, Montana. However, the attempt failed and the woman
left the casino empty-handed
.
Armed casino robbery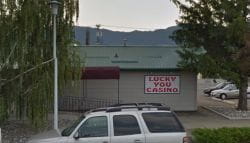 A spokesperson for the Butte Police confirmed that the female robber
carried a firearm
during the incident. Sylvia Ramrez Llamas threatened one of the casino workers and told him to hand over all of the money from the register.
Valiant deed
At the time of the robbery, only one guest was present. It turned out to be a brave person as he tackled the robber and managed to filch the firearm. Subsequently, the patron and a casino worker detained the 34-year-old woman until deputies arrived at the scene. Llamas was arrested and imprisoned. Besides a gun, the
casino robber
also had drugs on her.