East Helena authorities release image of casino robber
18-04-2014
Casinos are a popular target among criminals, resulting in robberies on a regular basis. This time a robber decided to pay a visit to Lucky Lil's Casino in East Helena, Montana. Local Police have published an image of the casino robber.
Successful casino robbery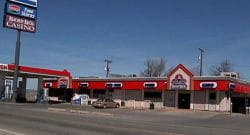 The offender robbed the gambling venue at approximately 12:35 a.m., according to a police report. He demanded money from the casino worker, and he used a firearm to reinforce his demand. The CCTV image shows a male robber who wore a sweater and a mask. He left the casino with an
undisclosed amount of money
.
Suspect description
The suspect, whose weight is approximately 190 pounds, is about 5'8" tall, according to the police description. He also wore a black coat and light colored pants, in addition to light colored shoes. The
casino robber
fled in a gold-colored vehicle, according to witnesses.
Police seek public's help
Police are appealing for the public's help in
identifying the man who robbed Lucky Lil's Casino
. "East Helena is a small town, so people must have heard or saw something. We urge East Helena residents with details about the robbery to come forward" a police spokesperson commented.