Desperate, homeless couple turned to casino gambling
11-10-2016
A couple was enjoying a Scottsdale-based gambling venue whilst their 5-year-old child was left unattended in their car. For that reason, Brad Porter Jr. and Jessica Lopez have been arrested for leaving their son alone for several hours. Police also discovered
alcoholic beverages and weed
inside the vehicle.
Necessity is the mother of invention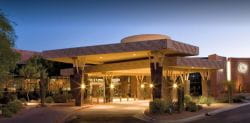 23-year-old Porter confessed that he and his girlfriend were inside the casino, while their
child was left unattended in a car
. He noted that they regularly returned to the vehicle to see if their 5-year-old son was okay. The couple is homeless, and Porter became unemployed, which
drove him to despair
. Therefore, they considered games of chance as an option to earn some money as they were running out of cash.
Homeless couple turned to gambling
With only $40 left, Porter and his girlfriend tried their luck at the Scottsdale casino, and that gamble didn't pay off. The family had been sleeping in their car for several nights, and now they face several charges. Their 5-year-old son was handed over to the
Arizona Department of Child Safety (DCS)
. A date for their sentencing has not yet been determined.