Criminals attack casino winner at home
25-03-2014
There's nothing like the feeling of arriving home after a rewarding session at a casino. A 69-year-old gambler must have felt the same sensation, but he had a rude awakening. Two attackers robbed the casino player at his home in McAlester, Oklahoma.
Attacked at home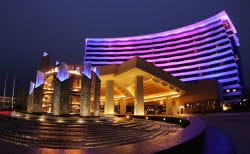 The victim had won over $10,000 at the Choctaw Casino Resort, according to authorities. The two criminals followed the casino winner to his home. They demanded that the man handed over all of his
gambling winnings
. The male suspect attacked the man, while the woman tried to steal the money.
Saved by the neighbor
He was thrown on the floor after which the molestation continued, read a statement from the police. The beating stopped after one of the neighbors had rushed to the scene. Despite the violent attack, the victim only suffered
multiple leg fractures
.
Two suspects
The two criminals had noticed how the 63-year-old took home more than $10,000 at the Choctaw Casino Resort. They kept a close eye on the man and even approached him. After a small chat, the McAlester resident left the gambling parlor and drove home. Police research has resulted in two possible suspects.