Craps croupiers charged with fraud
02-10-2015
Two former craps dealers have been charged with fraud. The embezzlement occurred at the Bellagio in Las Vegas, where James Russell Cooper Jr. and Mark William Branco cooperated with two friends. The two men
collected nearly $1 million in craps winnings
due to the fraud.
Prison on the horizon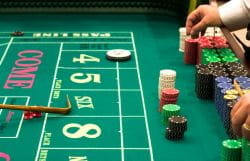 The scam was discovered in July last year, followed by the arrest and dismissal of both croupiers. They allowed Jeffrey D. Martin and Anthony Grant Granito to win big time thanks to
false bets
. The four men face multiple charges, including theft and fraud, which could result in jail terms of up to more than ten years.
Common problem
A spokesperson for the Nevada State Gaming Control Board confirmed that the embezzlement included '
past posting
' and phantom bets. "Unfortunately, fraud is not rare at gambling venues. More than 400 scammers get caught at casinos every year. However, this latest fraud case is definitely one of the largest we have seen so far", he noted.
Winning despite losing bet
One of the other croupiers smelt a rat and informed casino supervisors. Investigators examined CCTV footage and questioned other dealers at
the Bellagio
. "The two players made bets at
craps
when it was no longer allowed. On other occasions, the two dealers paid out despite losing bets", the spokesperson for the Nevada State Gaming Control Board added.