Chinese casino hub richer than Switzerland
03-07-2014
Business is going well in Macau, and its gross domestic product per capita soared to £53,227 last year. The
18% rise
was the result of growing visitors, both casino patrons and tourists, from mainland China. Based on figures released by the World Bank, Macau is the fourth richest area on the planet.
World's wealthiest territories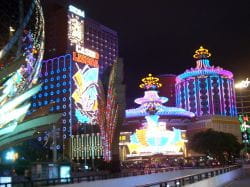 Switzerland dropped one spot after its gross domestic product per capita increased by 2% to £46,946. The three top spots, Luxembourg, Norway and Qatar, remain unchanged. The United Kingdom remains the 21st richest country after its GDP per capita advanced 1.8% to £22,939. Per capita GDP for the US was £30,979, resulting in the tenth spot on the list of
wealthiest regions
.
More than just gambling
Yet in 2007, Macau surpassed
Las Vegas
as the world's biggest gambling hub. The former Portuguese colony had a gross domestic product of $51.8 billion in 2013. Gambling is outlawed on the Chinese mainland, but in Macau it is legal. Despite its booming casino industry,
Macau
wants to offer its visitors more than just gambling. For that reason, gambling companies are building luxury hotels that offer entertainment, including theatrical plays and musicals.