Child care turns out to be underground gambling center
28-01-2016
Gambling is probably not the first thing that comes to mind when you think about a preschool. In the city of Birmingham (Alabama) however, a daycare center turned out to be an
underground gambling parlor
. Police have arrested two individuals in connection with running a black-market operation.
Decorated as preschool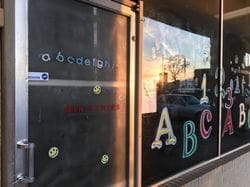 The daycare in question, named 'Growing Little Lambs Development Center', boasted multiple
slot machines
. Police also seized cash and a shotgun. The operators had disguised the windows front with cheerful words, in addition to the name of the preschool.
Mini casino instead of daycare
A police officer noted that people were visiting the preschool late at night, which raised suspicion. For that reason, they launched an investigation. "We discovered that Growing Little Lambs Development Center was anything but a daycare. On the contrary, it was a
small gambling parlor
", a spokesperson for the Birmingham Police said.
Crackdown on illegal gambling
One of the shop owners near the daycare stated that he had never seen children near Growing Little Lambs Development Center. Authorities are appealing to the public to report
underground gambling operations
as part of their ongoing efforts to root out such illegal activities.