Celebrities with a gambling problem: Married with Children
01-11-2014
The second part of the Married with Children episode 'You gotta know when to fold them' is themed around casino gambling. After Steve left Marcy, Peggy takes her to Las Vegas. The two women are not very successful at gambling and they
end up flat broke
.
Roulette predictor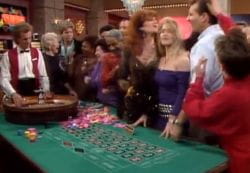 Al takes Bud and Kelly to Vegas in attempt to get his television and $5,000 back. In the meantime, Peggy and Marcy try to come up with a plan to earn back the money. Kelly turns out to be a brilliant roulette predictor, while Bud
kisses a fat lady
after losing a bet.
James Bond in his imagination
With only $8 left, Al decides to break the bank in
Las Vegas
. The shoe salesman first takes his time to explore the gambling floor. Al then finds a roulette table which he considers as the lucky one. He fantasizes about being
James Bond
("Bundy, Al Bundy") accompanied by several gorgeous ladies. However, Al can't play as the table requires a minimum bet of $20.
Curious wrestling contest
In the meantime, Kelly manages to pick twenty winning numbers on a row at an
American roulette
table. But just when Al decides to trust Kelly's predicting skills, bad luck is on his side. At the end of the episode, Al manages to last three minutes in a wrestling challenge against 'big bad mamma'. He ends up in a wheelchair, but wins $10,000. Peggy and Marcy use the money to gamble again.