Celebrities with a gambling problem: James Bond
19-07-2014
007 and gambling are almost two synonyms, which is the result of Ian Fleming's gambling habit. The English writer is the brains behind the world's most famous spy who often
plays at stylish casinos while saving the world.
Authentic gambling excitement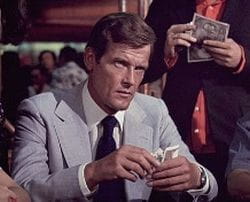 Fleming once said: "At three in the morning, gambling becomes really interesting as
croupiers
become tired and players are a bit tipsy. That's the moment to start winning some cash." A real gambler loves the combination of a good cigar, a nice drink and his or her favorite game. James Bond definitely shares that concept, with the addition of some beautiful women.
No problem gambler
Just like Ian Fleming, James Bond likes to spend time at gambling tables. Some claim 007 represents Bond's favorite gambling numbers. One thing's for sure: the British spy isn't a compulsive gambler. 007 visits casinos just to have some fun while playing
baccarat
, roulette or any other kind of game. His luck doesn't stop at the gambling table as he's also doing well among gorgeous ladies. Lucky bastard.