Celebrities with a gambling problem: Friends
27-09-2014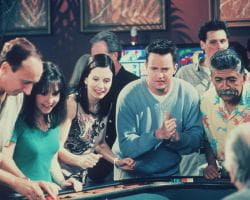 'The one in Vegas, part 2' is the Friends episode that is themed around gambling. Just like you might have expected, the main characters lose themselves in the excitement of casino gambling in Sin City. It doesn't come as a surprise that the combination of too much alcohol and gambling results in an
entertaining episode
.
Drunk gambling duo
Due to her over compulsive habits, Monica gets carried away by her winning streak at the craps table. At the same time, Phoebe enjoys the
slot machines
. Ross and Rachel get drunk, and enjoy a game of
blackjack
in Ross' hotel room. The duo returns completely wasted to the casino, and subsequently they visit a wedding chapel.
Wedding bet
Both Phoebe and Joey gets thrown out of the casino, while lady luck remains on Monica's side. Chandler and Monica decide to ty the knot if they win again at the
craps
table. They put their money where their mouth is and head to a wedding chapel where they come across Ross and Rachel. Monica and Chandler are stunned by the fact that the drunk duo got married.