Celebrities with a gambling problem: Carlton Banks
20-09-2014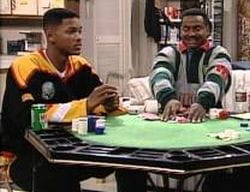 Carlton Banks is a rather weak personality in the American sitcom the Fresh Prince of Bel-Air. For that reason, it doesn't come as a surprise that he falls victim to a gambling addiction. In the episode 'Viva Lost Wages', Will and Carlton are forced to come up with an idea to win back their money.
Gambling maniac
Philip Banks treats his son to a trip to Sin City for his 21st birthday. The cousins immediately start gambling after arriving in the American casino city. However, things get out of hand, with Carlton developing a gambling problem. His winning streak in
American roulette
comes to an end, but Carlton continues to place bets.
Winners of strip dance contest
As you might have guessed, Carlton gambles away all their money, and even pawns their flight tickets. The duo has to find a way to generate some cash. They decide to join a strip dance contest to win the top prize. Their
bizarre imitation of the Village People
turns out to be successful, and they win the contest. All's well that ends well, and they can fly back to Bel Air.