Casino granny drives away in brand new sport utility car
12-09-2016
Slot winners normally take home staggering cash prizes, but a grandmother from Hawarden (Iowa) claimed something completely different. Velma M. had Lady Luck on her side when she played a slot machine at the Grand Falls Casino & Golf Resort, which netted her a
cool sport utility vehicle (SUV)
.
$30,000 SUV thanks to slot machine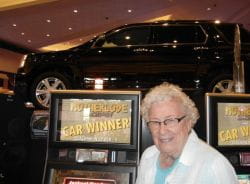 A spokesperson for the Larchwood-based gambling venue noted that Velma M. has become the proud owner of a 2016
GMC Terrain
. The Hawarden resident decided to spin the reels of a
mother lode-themed slot
, which turned out to be a good decision. Velma M. drove away in a $30,000 sport utility vehicle, which shows again how rewarding slot machines can be.
Extensive portfolio of casino games
The Grand Falls Casino & Golf Resort offers one of the most diverse and robust selections of games out there. Players can choose from:
Mississippi stud poker
Roulette
Ultimate Texas hold 'em
More than 750 slots, including high limit machines
Video poker
There's also a dedicated poker area packed with 8 tables, in addition to a VIP room.