Casino gambler leaves 15-month-old baby unattended in car
03-05-2016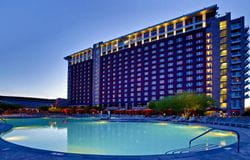 Some gamblers get too excited when they see a casino. Daniel M. Armaz is one of those gambling fans as he
was enjoying his favorite game of chance whilst his 15-month-old child was unattended in his car
. The Scottsdale resident has appeared in court charged with child neglect.
Baby nearly one hour alone in car
Armaz was playing at the Talking Stick Resort casino in Scottsdale (Arizona) whilst his 15-month-old son was nearly 60 minutes
unattended in his vehicle
. He had left one of his car windows open, read a statement from the police. Other gamblers noticed the crying baby and informed casino staff. The child was examined at a nearby hospital.
Extremely irresponsible behavior
The gambling enthusiast wasn't able to explain why he
left his child alone
when the judge asked him about his behavior. Armaz isn't allowed to see his son pending further investigation. The judge stated that the suspect put his child at risk by leaving him alone for nearly one hour. In the meantime, the 15-month-old baby is staying with his mother.