Casino dealer robbed his bosses out of $138,000 to get revenge
02-09-2016
An ex-casino dealer has been found guilty of multiple charges, including theft and fraud. Jiang Kaiwen felt unfairly treated by his bosses, which made him decide to get revenge. The 24-year-old man
defrauded the Marina Bay Sands (MBS) casino out of $138,000
. Kaiwen will be sentenced on October 3, after he was found guilty to several charges.
Victim of injustice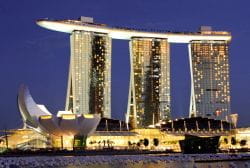 The defendant started his employment at the Singaporean casino resort in September 2015. Kaiwen dealt the cards at the
baccarat
,
blackjack
and
sic bo
tables. However, he felt that his bosses treated him unjustly in several incidents. Kaiwen claimed he was insulted by two gamblers, but the casino chose the side of the players, after which the croupier decided to get revenge.
Trio of scammers
He
stole casino tokens
worth $118,000, which he gave to 24-year-old Li Zhifan, who redeemed them for money. 22-year-old Dong Hao was also involved in the embezzlement. Additionally, Kaiwen allowed his two friends to
past-post
, while he also awarded losing bets. The three scammers shared the money they made at the restrooms of the Singapore-based gambling venue. Authorities arrested the 24-year-old fraudster in early May when he arrived at
Changi Aiport
.