Casino attendant on the run after stealing $161,000
18-05-2015
An Indonesian national is on the run after stealing approximately
$161,000
from a Cambodian casino resort. The Grand Dragon Resort has asked sixteen other employees not to leave the premises as police officers are still investigating the incident. The Dai Lai Company operates the gambling venue that is located in the Koh Thom region.
False allegations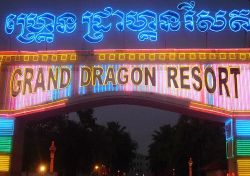 A spokesperson for the Indonesian Embassy confirmed that the sixteen casino employees are all Indonesian nationals. First there were rumors that the Grand Dragon Resort's management
had detained the group
, but the Indonesian Embassy has dispelled those allegations.
Mystery theft
The
man accused of stealing the money
appears to be Jefry Sun, according to Cambodian media. Authorities believe that Sun is the foreman of the Indonesian migrants employed at the Grand Dragon Resort, and he appears to be
hiding somewhere in Cambodia
. However, Indonesian police are also looking for the suspect, and they have yet interviewed his parents.