Billings casino robbed by armed criminal
01-10-2014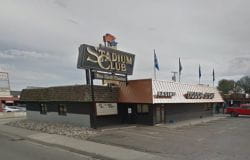 The Stadium Club in Billings, Montana is an exciting combination of dining, gambling and drinking. Unfortunately, an armed robbery has taken place at the business located on Main Street, Billings Heights. The
suspect remains at large
after last night's incident.
Successful robbery
A spokesperson for the Billings Police department revealed that the robbery occurred at around 7:30 PM. The
armed criminal
entered the gambling section through the liquor shop of the establishment. He displayed a firearm while demanding the contents of the cash register. The robber left the Billings business with an unidentified amount of money.
Hooded criminal
The suspect managed to escape from the police despite efforts by agents and a police dog. The hooded robber reportedly wore a dark-colored mask, in addition to
white gloves
. According to the police report, the white suspect is about 5'9" tall, and aged 25 to 30. Billings Police are hoping the public's tips can help trace the armed man.