Armed robbery at Sioux Falls gambling parlor
23-12-2014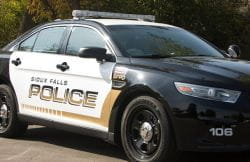 Sioux Falls authorities responded to a robbery call at a local gambling parlor. The incident took place at Happy Jack's Casino where an armed bandit
stole a quantity of cash from the till
. The criminal displayed a firearm, read a statement from the Sioux Falls police department.
Armed casino robber
The suspect headed to the casino's till where he demanded money while brandishing a firearm. He didn't fire any shots however, but he clearly displayed the handgun, according to a staff member. The
casino robbery
occurred at around 11 o'clock last night.
Bushy eye browed robber
The criminal, whose weight is approximately 175 pounds, had
some kind of mask
to cover his face. He is aged between 30 to 40, and he was last seen wearing a dark-colored shirt. One of the casino clerks noticed the robber's thick eyebrows. It's unknown at this time in which direction the casino criminal fled.