Armed man robs Sioux Falls gambling parlor
25-06-2014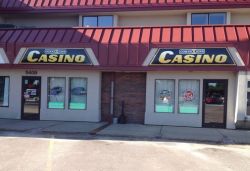 The Connexions Casino in Sioux Falls, South Dakota has fallen victim to an armed robbery, read a statement from the Sioux Falls Police Department. The robber entered the gambling parlor at around 1:45 a.m. He
displayed a firearm
to reinforce his demand for money. After the cashier handed over the money, the robber left the gambling venue on foot.
Suspect description
He wore a baseball cap, in addition to a shirt with long sleeves and black trousers, according to the description by police. The suspect with black hair is about 5'9" tall. Sioux Falls Police appeal for public assistance in identifying and locating the casino robber.
Successful casino robbery
Recently, another armed casino robbery happened in Billings, Montana. A quantity of cash was stolen from the till at the Casino Royale. The Billings Police Department has released surveillance footage in an attempt to identify the
casino robber
. Anyone with information about the suspect is asked to contact Crime Stoppers.