Armed man robs Billings gambling parlor
17-06-2014
Billings Authorities are looking for a robber who paid a visit to a local gambling parlor yesterday. The robbery took place at round 3 p.m. at Casino Royale, according to Billings Police. The suspect made off with a
quantity of cash
that was stolen from the till.
Possibly armed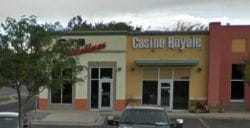 Police believe that the man left the gambling establishment in a car that was stolen. After the incident, agents recovered the car in the area of the casino. In a news release, Billings Police allege that the
robber carried a firearm
. However, the employee didn't observe any kind of weapon.
Bandanna-wearing casino robber
The suspect is believed to be in his twenties. Additional details on the suspect remain vague, except for the fact that he wore a kerchief during the
casino robbery
. A spokesperson for the Billings Police noted that the investigation is ongoing.