Armed duo robs Hooters Casino Hotel
16-08-2016
An armed duo has robbed the Hooters Casino Hotel in Las Vegas. The two hooded suspects
used a firearm to threaten casino staff
, after which they left the gambling venue with an undetermined amount of cash in their pockets, according to local media.
Description of suspects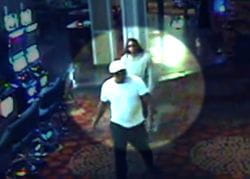 Both
casino robbers
are African-American men, and one of theme weighs approximately 200 pounds. He has short hair, measures nearly 5' 10", and wore a light-colored shirt and dark-colored trousers. The other criminal wore light-colored sneakers, and dark-colored, short trousers. He measures approximately 5' 8", and weighs nearly 170 pounds. His
rastafarian hairstyle
distinguishes him from the other suspect.
Public help wanted
The
casino robbery
happened Sunday morning at around 10:15 a.m., according to media reports. The
Las Vegas Metropolitan Police
are asking for the public's help identifying the two robbers. If anyone has any information on the identity of the suspects please call 702-828-3591, while
Crime Stoppers of Nevada
(702-385-5555) is another option.