Another weak month for Macau casinos
04-05-2015
Macau's casino revenue tumbled 39% in April compared to the same month in 2014. Gambling venues based in the Chinese territory saw their
income fall to $2.42 billion
last month. Additionally, revenue declined by 37% from January to April compared to the same period in 2014.
Huge contrast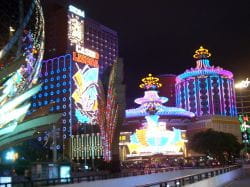 Gambling revenue fell 49% in March, followed by a 39% decline in March, according to a report from the Gaming Inspection, and Coordination Bureau. Last month's drop means the eleventh month in a row of declining income in the
world's number one gambling hub
. Prior to the downturn, casinos in Macau reported five years of continuous expansion.
Reasons behind decline
Gambling experts blame China's efforts to banish corruption for the tumbling revenue. The intensified crackdown has also a negative impact on casino whales who like to wager large amounts of money. Other reasons behind the losing streak:
More stringent visa requirements
Intensified control by UnionPay cards