4-year-old child abandoned in casino parking lot
02-01-2014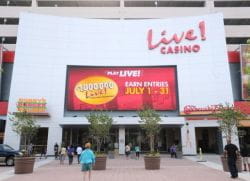 How about a mother who was enjoying a gambling session while her daughter was left behind in a car
for more than eight hours
? That's exactly what happened at the parking lot of a Hanover-based gambling parlor. Anne Arundel County Police have arrested the 24-year-old mother after the incident at Maryland Live casino.
Freezing and hungry
Alicia Denise Brown is facing charges of child abuse, according to court documents. Police describe the incident as
'alarming'
as the little girl spent more than eight hours alone in the car. Casino security discovered the 4-year-old, who was hungry and cold due to the freezing temperatures.
Shocking incident
The Baltimore City resident refused to comment on the incident. Police officers detained Brown after casino security officers had discovered the abandoned child. "
Leaving your child alone in a car
is not only irresponsible but also outrageous," a casino visitor commented. "It appears that she attaches more importance to gambling than to taking care of her daughter," another patron said.