19-year-old Tulsa resident found guilty of casino robbery
02-04-2014
They say criminals are getting younger by the day. A teenager from Tulsa is a living example of that saying. Dominique Amoia McDowell II robbed a casino patron earlier this year. The 19-year-old has pleaded guilty to displaying a
loaded handgun
, and now faces a prison sentence.
Gambling with stolen money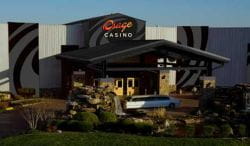 The incident took place at the Osage Nation Casino in Tulsa. McDowell stole $600 from a female casino visitor, while displaying a firearm. Subsequently, the 19-year-old robber decided to use the stolen money to enjoy the
slot machines
at the Osage Nation Casino.
Life in prison
Police officers and casino officials located the young man inside the gambling venue. They seized a firearm worth $540, according to court documents. The
armed robbery
may have a massive impact on his life as he faces prison time. A spokesperson for the US Attorney's Office stated that he may be sentenced to life in prison.