Casino Café de Paris – Monte Carlo
Of all the Monegasque casinos, it's the Casino Café de Paris that is arguably its most famous. Situated in the renowned Place du Casino (Casino Square), the Café de Paris' history is as old as Monte Carlo itself.
A casino steeped in history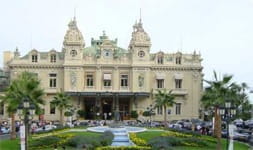 Casino Café de Paris' history dates all the way back to the very founding of
Monte Carlo
itself. Around the mid-Nineteenth Century, Monaco's economic problems and the financial legacy of centuries of war had left it and the ruling Grimaldi family almost bankrupt.
In order to rejuvenate the principality's economy, Prince Charles III of Monaco authorized the construction of Monaco's first casinos in 1856.
Several conspiring factors ensured the early casinos struggled. So to improve things, the Grimaldis turned to casino magnate François Blanc for assistance. This partnership saw the birth of the now famous "Société des Bains de Mer" in Monaco (SBM).
In 1864, Blanc founded the Hotel de Paris. Then in July 1865, the Casino Café de Paris was opened. Both were located on the Place du Casino, where they remain alongside le Casino de Monte Carlo.
Building on his knowhow and with strong financial backing, Blanc accomplished what his predecessors had failed to do. In less than three years, he had constructed a casino facility whose luxury and elegance was unrivalled.
The venture's success was assured when, in 1856, the railway line between Nice and Ventimiglia opened. This enabled Europe's upper classes to get to and from Monaco with ease.
Finally, in 1866, the whole area was renamed "Monte Carlo" (or "Mount Charles" in English) in honor of Prince Charles III.
A new world in an old one
This dedication to lavish entertainment and uncompromising luxury is something Casino Café de Paris still takes to heart to this day. But while it's history is as long as it is rich, both Casino Café de Paris and the Hotel de Paris are thoroughly modern.
The casino hall is styled to a futuristic theme. The huge illuminated arches change color depending on the time of day it is, subtly changing the atmosphere. And naturally, all the slot and table games you'd expect to find in a modern casino are all present and correct.
Slot machine heaven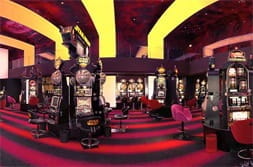 Casino Café de Paris may offer a wide selection of games, but it is arguably its slot machines for which it is most famous. Despite stiff competition, it has the largest collection of slot machines anywhere on the Riviera.
Within its walls you will find almost 500 slot machines of differing kinds. These range from real mechanical roller machines, to elaborate multi-casino progressives with jackpots that start at $650,000.
The range of machines on offer is continually changing, with a steady stream of new machines coming in. Many of these are based on popular movie and entertainment licenses (such as Batman, Star Wars, and even American Idol). Indeed, some of them are exclusive to the casino itself – meaning that Café de Paris is able to offer experiences that are literally unlike any other on the planet!
The fact you're playing in Monte Carlo also brings advantages with it. Payback ratios are very generous in Monte Carlo, and there are no winning taxes. On average, a jackpot is won every seven minutes in Monte Carlo. Such jackpots are typically around $1,000, and over $280,000 is typically paid out in jackpots in the principality each day.
It also operates regular mystery jackpot weekends. These involve the 140 networked slot machines that are available in the Casino Café de Paris and Sun Casino, and operates alongside the regular jackpots available on these machines. So even if you don't win the big cash prize, you could still win points on your Privilege 777 card, a bottle of fine champagne, or one of the other many gifts on offer.
If you're a slots fan then, a trip to Monte Carlo and the Casino Café de Paris is essential.
More than machines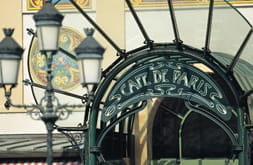 However, there's more to Casino Café de Paris than simply slots. The casino itself offers a number of different games, such as
craps
,
American roulette
and
blackjack
.
Nor are these games reserved for the rich and famous. Despite its glamorous surroundings, you'll find many of its tables cater for those on less extravagant budgets. Minimum wagers for craps and roulette are €10 ($13), and for roulette €2 (less than $3).
Its central location ensure Casino Café de Paris is also at the heart of Monaco's cultural life as well. Many of Monte Carlo's famous events, such as the Monte Carlo Jazz Festival, are celebrated in and around the casino.
In keeping with its name, the Café de Paris is also renowned for its fine dining and elegant bars. Its Brasserie 1900 encapsulates all the charm of a Parisian bistro from the turn of the last century. Its menus cover everything from fresh seafood to delicious deserts, and also features an all-year outdoor terrace, and function rooms.
By contrast, the Bar des Jeux is anything but classical. Featuring modern styling (including multicolored lights), it's designed to be the ideal meeting place to meet up before a night's gambling, or a great place to celebrate a big win.
The casino on your hotel doorstep
Although the Casino Café de Paris itself does not have a hotel, it is mere steps away from the Hotel de Paris. As with the Café de Paris, the hotel knows how to pamper its guests.
The hotel boasts some of the finest features of any of the hotels found on the Riviera:
182 rooms, including 37 junior suites, 41 suites, and two diamond suites.
Four first-rate restaurants.
Le Bar Americain, a jazz bar with views of the sea.
A hair salon and luxury boutiques.
One of the best-stocked wine cellars in the world, with almost 600,000 bottles.
A grand function room, and eight fully-equipped meeting rooms.
Direct access to the world-famous Les Thermes Marins Monte-Carlo, Monte Carlo's most luxurious spa, swimming pool and fitness centre.
The restaurants are certainly of note. For those who wish to dine in luxury, La Salle Empire, and le Louis XV – Alain Ducasse (holder of three Michelin stars), offer a wide selection of elegant food. Other dining options Le Grill, and the Cote Jardain buffet and terrace.
If there is one downside to staying and dining at the Hotel de Paris, it's the cost. But as the old adage goes, quality has its price.
Casino Café de Paris and Hotel de Paris: facts and figures
Finally, here is an overview of the Casino Café de Paris and Hotel de Paris:
Address: Casino Café de Paris, Place du Casino, 98000 Monaco
Total gaming space: 10,000m² (108,000sq ft)
Opened: July 1865
Total number of hotel rooms: 182
Parent company: Société des Bains de Mer
Total number of slots: 500 (approx.)
Smoking: no
For further information, including how to book your stay at the hotel, please visit the Casino Café de Paris Monte Carlo's official website.