Treasure Island Casino
Since launching in 1993, Treasure Island had undergone its fair share of major changes. Indeed, when it was first envisaged, Treasure Island – or TI as it's known as these days – wasn't supposed to be a stand-alone casino resort at all, but an annex of an existing one.
But times change, and the casino and its hotel and entertainment functions have evolved to suit the changing needs of the market. And as a result, TI is fully deserving of its inclusion in our Las Vegas famous casinos section.
A varied history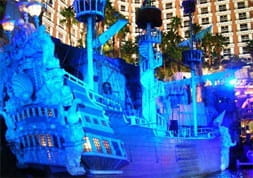 As previously mentioned, Treasure Island didn't actually start out as a casino resort in its own right. Initially, the plan had been for it to form an extension of one of
Las Vegas' other famous casinos
, the Mirage. As the project evolved however, it began to take on its own form, and eventually became a separate casino-hotel resort in its own right.
To begin with, the resort was pitched at families, offering alongside its casino a video arcade, family-orientated live shows and a kids-friendly pool. The theme also matched this, with a strong pirate vibe prevalent throughout the resort. However, this didn't have the desired effect, and in 2003 it underwent a redesign to give it a more neutral, grown-up-centric feel. This included repositioning its name to simple be 'TI' instead of 'Treasure Island'.
Treasure Island would continue to be part of the MGM Mirage group of casinos for some 15 years. This changed in December 2008 when it was announced that billionaire American businessman Phil Ruffin had purchased it for $775 million. Ruffin assumed full control of Treasure Island in March 2009.
Quality gambling
Treasure Island's casino floor may only be 95,000 square feet in size – somewhat less than many other famous casinos – but it still offers considerable variation. This includes a whole host of games, including:
Blackjack
American roulette
European roulette
Craps
Baccarat
Pai gow poker
Three-card poker
A wide variety of slots
Alongside this, there's also traditional poker in the poker room where daily tournaments are held, a high limit lounge and sports and race betting facilities.
However, it's the atmosphere that Treasure Island excels at. This includes the Gilley Girls Party Pit, where the world-famous Gilley Girls work as dealers.
From scintillating to sexy – Treasure Island entertainment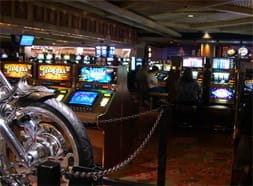 After a busy day at the tables, Treasure Island offers a number of different ways to unwind, ranging from top quality shows to fine dining.
These include Cirque du Soleil's breathtaking Mystere acrobatic show, and the rather more sensual charms of the Sirens of TI show, with a host of packages being available.
Should you wish to grab some food, there's a whole host of options available, ranging from buffets and grill houses, to high quality steakhouses. 10 eateries are available in total. Additionally, there are six themed bars, ranging from western-style saloons to the more refined world of upmarket cocktail bars.
Additionally, the resort has a good spread of amenities. The pool area features a heated swimming pool, a 25-person hot tub and the option to rent private cabanas. It has a range of luxury shops and boutiques within its own confines, and offers great access to some of the Strip's bigger malls. It also offers access to four of Nevada's top golf courses. Two spas are also available.
Rooms to suit every budget
With almost 2,900 rooms, Treasure Island offers a good spread of rooms and rates. Even the basic guestrooms are well equipped, offering flat panel TVs with cable, refrigerators, internet access, a private safe and luxury furnishings and fittings.
At the other end of the scale, the hotel's penthouses have everything from private offices and separate living rooms to stunning views of the surrounding area and whirlpools. And of course, there are several other classes of room in between these two extremes.
Treasure Island facts and figures
Finally, here are some facts and figures relating to the Treasure Island hotel and casino:
Address: 3300 Boulevard South, Las Vegas
Opened: October 27, 1993
Total gaming space: 8,800 m² (95,000 sq ft)
Total number of rooms: 2,884
Smoking: yes (smoking and non-smoking tables available)
Number of slots: 2,100+
Owner: Phil Ruffin
For further information, including how to book your stay, please visit the official site of Treasure Island Casino.